Can You Trade In a Financed Car?
In short— yes, you can trade in a financed car. However, there are some stipulations  West Palm Beach drivers you should be aware of depending on the current financial situation of that vehicle.
The current loan on your vehicle isn't abolished when you trade it in; you must pay off the remaining balance. The trade-in process is different for a vehicle with outstanding payments vs. a vehicle that has been fully paid off, and we will take you through those discrepancies below.
If you need any financial advice beyond this guide, our finance department is happy to help with any questions or concerns Boca Raton drivers may have. Learn about trading in a financed car here at Jaguar Palm Beach, not far from Delray Beach.
How Does Trading In a Financed Car Work?
Trading in a financed car depends on whether you have positive or negative equity. Positive equity means your car is currently worth more than the remaining amount you owe on it. In this case, that difference will be applied to the purchase of your new car like a credit. Use our trade-in valuation calculator to discover if you have positive or negative equity.If you have negative equity, this means your car is worth less than what you currently owe on it. In this case, the dealership will give you enough to pay off the remainder of the loan when they purchase your vehicle back from you. Think of it this way: if you owe $7,000 on your car, and the dealership offers $8,000 to buy it, the loan will be paid off when the dealership takes it over. The remaining $1,000 will then be removed from the price of the new vehicle you purchase.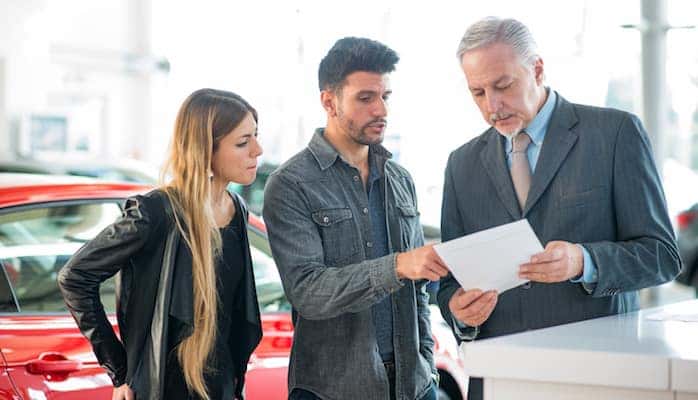 What Does Rolling Over a Loan Mean?
When the dealership says they will pay the remainder of your old loan in the case of negative equity, this is referred to as "rolling over" a loan. This price will be tacked on to your new loan on your next vehicle. This means your new loan will account for both your new vehicle and for the dealership covering the remaining balance on your trade-in.
Get Finance Help From Jaguar Palm Beach
For Wellington drivers ready to trade in a financed vehicle, you'll find all the help you need through the expert finance team at Jaguar Palm Beach. Contact us to learn how to buy a car online or for additional information about the financing process!
Recent News from Jaguar Palm Beach
Jaguar Palm Beach is proud to announce that, once again, we have been recognized with the Pride of Jaguar Award! Only twelve Jaguar dealers nationwide were honored with the 2022-2023 Pride of Jaguar Award, and, with over 20 Pride of Jaguar Awards to our name, this should stand as further confirmation of our West Palm Beach dealership's commitment…

Have you been asking "How fast is the 2023 Jaguar F-PACE?" or "What is the 2023 Jaguar F-PACE SVR 0-60 acceleration time?" One thing is definitely for certain: The new Jaguar F-PACE will join the "fast car" pantheon! The 2023 Jaguar F-PACE 0-60 acceleration time is impressive no matter which trim level you choose,…

Jaguar, one of the most venerable automotive manufacturers in the world, recently made a big announcement. By 2025, all-electric Jaguars will be the only vehicles available from the famous brand. So how will switching to Jaguar EVs affect the vehicle manufacturer, including its dealerships near Boca Raton, Delray Beach, and the rest of the country? Learn…