What Do Your Brake Pads Do?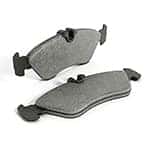 Your brake pads are important parts of your car's braking system. When you step on your brakes, devices called calipers squeeze down on your brake rotors, slowing them and your wheels to a stop. Since this puts a lot of friction on your brakes and can do serious damage to them, there needs to be a buffer between the calipers and the rotors.
That's where the brake pads come in. These pads are placed in between the calipers and rotors and prevent the rotors from being damaged. Unfortunately, this places a great deal of friction on the pads themselves, causing them to wear down until they need to be replaced. New brake pads can be purchased at most automotive stores, but you may need to contact a mechanic or dealership to install them if you don't know how to do this. Contact Jaguar Palm Beach for more information about changing brake pads.