One-of-a-Kind Jaguar E-TYPE Debuts at Queen Elizabeth's Platinum Jubilee Pageant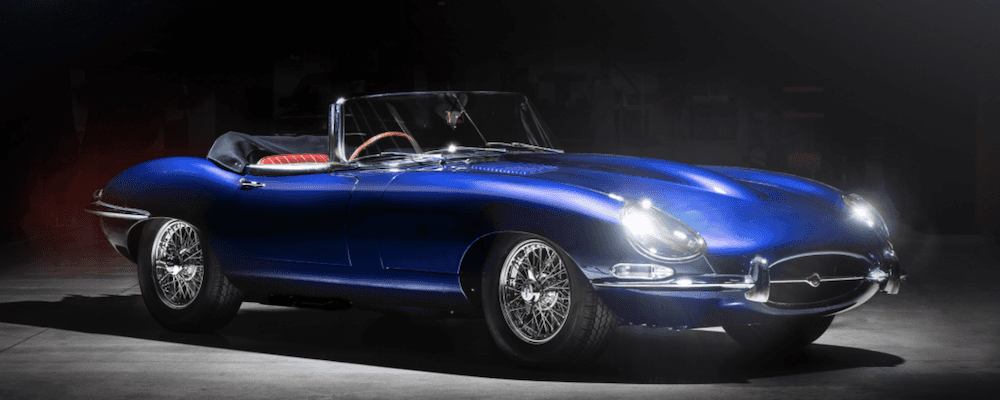 The Jaguar Classic Division recently showcased a bespoke Jaguar E-TYPE at Queen Elizabeth's Platinum Jubilee, which took place on June 5, 2022. This Jaguar E-TYPE was an accurate replica of the 1965 Series 1 Jaguar E-TYPE and was commissioned by an unnamed customer. The E-TYPE was featured alongside 15 other unique Jaguar models, all of which showcased the talent and capability of the Jaguar Classic Division.
Take a moment to learn more about the event and the Jaguar E-TYPE. Then, if you'd like to test drive the E-TYPE's successor, the F-TYPE, near Boca Raton, fill out a pre-approval and contact Jaguar Palm Beach to arrange a test drive!
What is the Queen's Platinum Jubilee Pageant?
An unnamed customer recently commissioned the Jaguar Classic Division to build a working version of the Series 1 Jaguar E-TYPE from the year that he was born, 1965. The Jaguar Classic team was able to source an E-TYPE that was built within two days of the customer's birthday and replicate the Roadster. From there, it was featured at Queen Elizabeth's Platinum Jubilee, alongside 15 other Jaguar vehicles.
But what is the Platinum Jubilee? This event has only been held for five English monarchs and commemorates the 70-year anniversary of their service. Considering the close relationship that Jaguar has had with the royal family over the queen's tenure, it was only natural that Jaguar featured 15 feats of design in the Jubilee pageant. Other models included an all-electric Jaguar I-PACE eTROPHY race car, and seven classic convertibles, among other models.
Highlights of the Jaguar E-TYPE Special Commission
The commissioned Jaguar E-TYPE was built to original specification. The Jaguar E-TYPE features an interior upholstered in a shade of red inspired by British pillar boxes. All leathering was hand-finished using traditional methods at the Jaguar Classic trim shop in Coventry. Meanwhile, the exterior of the E-TYPE features a metallic blue hue that pays tribute to the colors of the Union Jack.
There are a few differences between the original Jaguar E-TYPE and this new commission. The original featured a 4.2L straight-six engine, and the recommissioned E-TYPE features a 4.7L engine with updated performance. It also includes an improved suspension system wider wheels and tires, upgraded brakes, LED exterior lighting, and an in-dash infotainment system. What's interesting about the infotainment system, however, is that it's been redesigned to feature a more historic look, so it doesn't depart from the period-perfect aesthetic of the E-TYPE's design.
Have Questions About the Jaguar E-TYPE?
Unfortunately, this 1965 Series 1 Jaguar E-TYPE is an entirely bespoke commission, and you won't be able to get your hands on one. If you'd like to test drive a contemporary Jaguar that pays tribute to an E-TYPE near Wellington, call Jaguar Palm Beach at (561) 556-5504. We'll arrange for you to test drive the Jaguar F-TYPE and E-PACE, both of which take notes from this classic vintage sports car!
More From Jaguar Palm Beach
This year's lineup only includes one 2023 Jaguar I-PACE trim level—but there are plenty of ways to customize the model you decide to bring home. The 2023 Jaguar I-PACE price list starts at $71,300 MSRP—and the entry-level HSE configuration includes everything you'll need for unforgettable drives through Boca Raton and Delray Beach. Ready for a closer…

The Jaguar F-TYPE R can go from 0-60 MPH in just 3.5 seconds, making it among the fastest cars in the Jaguar line. Take a moment to learn about the Jaguar 0-60 MPH times for configurations of the 2023 Jaguar F-TYPE and to learn about the Jaguar F-TYPE specs. Then, apply for financing and…

The Jaguar Classic Division recently showcased a bespoke Jaguar E-TYPE at Queen Elizabeth's Platinum Jubilee, which took place on June 5, 2022. This Jaguar E-TYPE was an accurate replica of the 1965 Series 1 Jaguar E-TYPE and was commissioned by an unnamed customer. The E-TYPE was featured alongside 15 other unique Jaguar models, all of…